Be part of the story...
Inspire a Love of Learning
That's what we're all about at Toddletown Nursery in Farnham and Godalming....we want our children to leave us with a love of learning, feeling confident that their voice will be heard and that their natural curiosity will be encouraged.
We are currently recruiting for nursery positions in Godalming and Farnham and are looking forward to welcoming new team members in the following roles:
Full & part-time Level 3 Practitioners between 8 - 40 hours per week
Afternoon Nursery Practtioner (flexible hours between 2pm - 6pm)
Term-Time Plus Nursery Practitioners (working a minimum of 5 weeks school holidays each year)
If you are a Level 3 qualified early years educator, looking for a new role in Farncombe or Farnham and have what it takes to inspire a love of learning, please send your CV to office@toddletowndaynursery.co.uk
If you can find magic in the unremarkable and can create moments of wonder for children and their families then we'd love to hear from you.
Of course it's not all tuff trays and unicorns; we're here to keep children safe, deliver care and education that is right for each individual and give every child at Toddletown the very best start in life.
We do not compromise on quality.
That extends to the quality of our staff offering too.

We know how much our staff commit to the children at the nursery and the value that they add to each and every family at the nursery. We want our staff to feel that same level of commitment from us, and for us to add significant value to them and their family life.
Our company values of quality, positivity and responsibility are embedded within our staff offering and we will look after our staff team by paying well, providing a positive working environment and creating meaningful opportunities for continuous learning and development.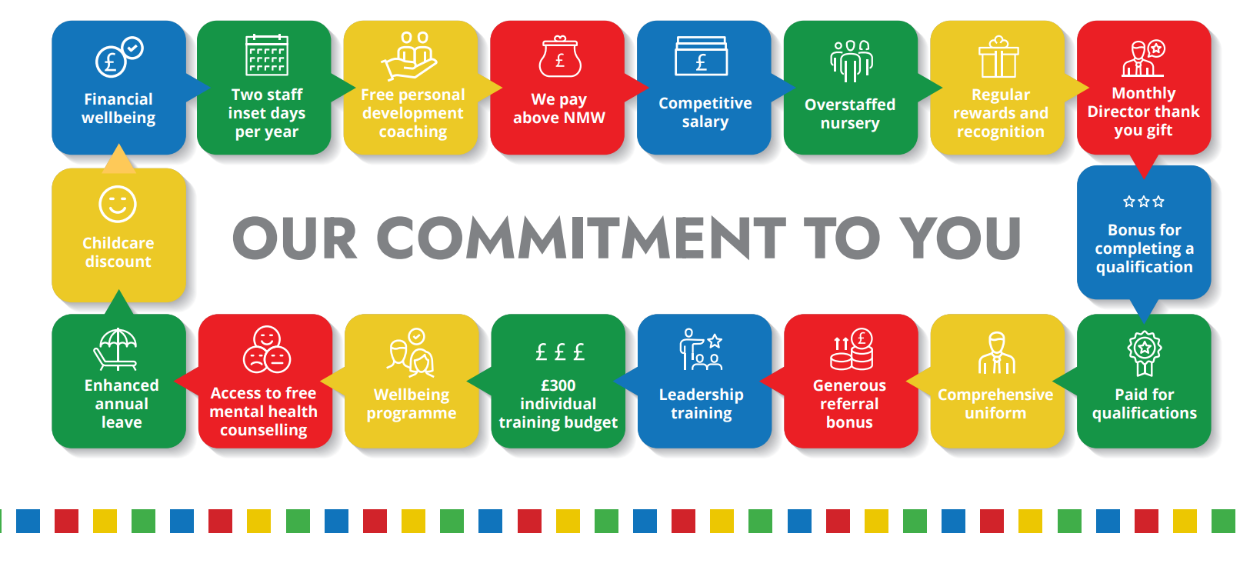 To find out more about what makes working at Toddletown so special,
We take the training and development of our team seriously and as well as formal training and qualifications and inset days, we host a weekly Lunch and Learn Session. Thess 20 minute sessions are held during lunch breaks for the team to join live, and the recordings can be accessed at any time. Topics include neurodiversity and leadership.

Toddletown Lunch and Learn