News
Developing Pencil Control
Developing Pencil Control
We often get asked about school readiness and writing, and we'll talk about that more in another blog, but today let's take a step back. Early writing skills are made up of a variety of skills that children must master in order to be able to write their name for example. One of these is pencil control.
In the support material for the Early Years Foundation Stage (EYFS), Development Matters, writing is mentioned many times. In the physical development area of the EYFS we see the following as an example of a skill that nursery practitioners will help children develop:
Beginning to use three fingers (tripod grip) to hold writing tools.

Before children can learn letter formation and directionality, leading to becoming successful in developing letters and numbers they have to develop their fine manipulative skills. Fine manipulative is the use of your hands and fingers the muscle within.
The below are some of the example play based activities that we will use at Toddletown. These encourage the strengthening and development of those muscles. They're also simple enough to do at home! We hope you enjoy trying them out.
Activities
Use a pair of child sized tweezers to pick up pom poms or cotton wall balls. If you don't have tweezers then try using kitchen tongs, or chop sticks which have been tied at the top. For older children, you can combine this with things such as learning colours "can you use the tweezers to get all the red pom poms into the pot" or "can you tweezer four blues into the tub".
If your child isn't keen on trying the activity at first, think about thier current interests and incorporate this into their play. For dinosaur fans, could the pom poms be food and your little one is the dinosaur zoo keeper who needs to use the tweezers to feed their dinosaur? Role play kitchen lovers can use the tweezers to pick up the hot food from their saucepan...the possibilities are endless and child led play is how we like to do things at Toddletown.
Another simple idea, is to try threading penne pasta on to a piece of wool. If you're feeling brave, get the paints out and paint the pasta first to create a beautiful piece of jewellery!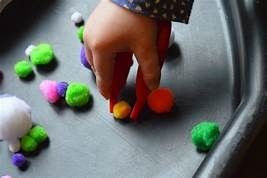 Who's got a sticker fan at home? We certainly have! Using your little one's stickers is another great way to develop those all important skills. Peeling stickers and sticking them on to a shape or a line is a brilliant way to learn through play.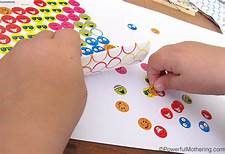 We hope you enjoy these simple activiites, designed to develop pencil control. We'd love to hear how your child gets on with them!
Posted on 5th December 2019